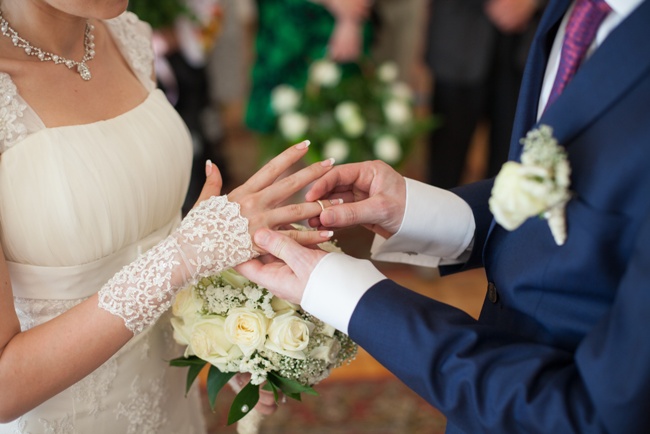 A lot of couples are considering the option to have a small wedding ceremony followed by a bigger wedding reception party. The problem is that this is a very delicate matter as the wedding guests that are invited only to the wedding reception may feel like they are not as important to the couple as those who have been granted access to all wedding events (including the wedding ceremony).
So, is it OK to invite just a portion of your wedding guests to the wedding ceremony? The answer is that it really depends on the wedding situation you are in. Here are a few scenarios in which this will be (most probably) considered acceptable:
Scenario #1: You are having a small destination wedding
If you have decided to have a small destination wedding including just the two of you or a small wedding party and your closest family members, perhaps your wedding guests will feel perfectly OK with being invited only to the wedding reception.
Scenario #2: The capacity of the ceremony venue you've chosen is small
Sometimes, choosing the perfect wedding ceremony venue is very important to the couple and cannot be changed just because of its size. For example, the groom may insist on a special place that's been used in his family for wedding ceremonies for centuries! Or the bride and groom have simply fallen in love with a tiny old chapel that accommodates just a handful of people… In such cases, you should get your wedding guests' understanding of your wedding ceremony choice.
Scenario #3: You want to keep things small
For some people, a wedding is an intimate affair and they want only those who matter the most to them to witness it. If this is your case, you should consider cutting your entire wedding guest list down and inviting to both the wedding ceremony and the wedding reception only the people you sincerely want to see on your big day.
If your wedding situation is different from any of the three wedding scenarios above but you still insist on having an intimate wedding ceremony followed by a bigger wedding reception party, just follow these rules and you'll be OK:
Rule #1: Prepare two sets of wedding invitations
It goes without saying that if you are planning on inviting just a portion of your wedding guests to some wedding events, each wedding guest should receive a personalized wedding invitation. It should clearly state what events are included and when/where they are happening.
Rule #2: Draw the line at family members
If you want an intimate wedding ceremony followed by a bigger and louder wedding reception party, stick with the family-only policy for the ceremony. This is the easiest way to solve your problem. Besides, you will have the strongest argument when being asked: "Why am I not invited at the wedding ceremony?"
Posted in
wedding ceremony
,
wedding reception
,
Wedding Receptions
Tags:
bigger wedding reception party
,
ceremony
,
Her Wedding Planner
,
Her Wedding Planner tips
,
Her Wedding Planner tips and advice
,
herweddingplanner
,
intimate wedding ceremony
,
personalized wedding invitation
,
small destination wedding
,
small wedding ceremony
,
small wedding ceremony followed by a bigger wedding reception party
,
small wedding ceremony venue
,
the perfect wedding ceremony venue
,
wedding ceremony
,
wedding ceremony choice
,
wedding ceremony family-only policy
,
wedding tips and advice