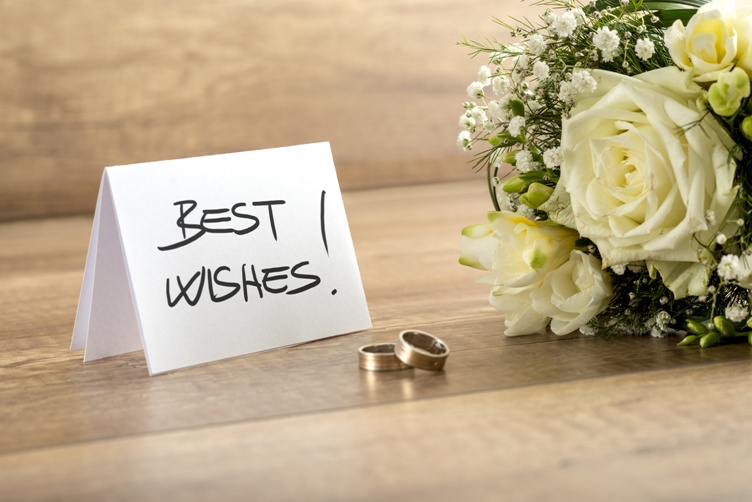 Being invited to a wedding means you have an important role in the life of the soon-to-be newlyweds. Whether you are a family member, a close friend or just a colleague, the bride and groom have chosen you to witness their most special day!
Do you struggle to find the right words to use in the wedding card? Worry no more! We've gathered an extensive collection of some of the best wedding wishes that can be found online. We've even categorized them, so sending your wedding wishes becomes easier than ever:
Short wedding wishes
Are you a man (woman) of few words? Then these short wedding wishes are perfect for you!
"Congratulations on your wedding!"
"Best wishes!"
"Congratulations!"
"So happy for you!"
"Wishing you lots of love and happiness."
"Heartfelt congratulations."
"Lots of love today and beyond."
"Wishing you a long and happy marriage."
"Here's to a long and happy marriage!"
"Wishing you the best today and always."
Timeless wedding wishes
If you are a fan of formal wedding wishes that sound both sophisticated and romantic, you can choose one of these timeless wedding wishes!
"May the love and happiness you feel today shine through the years."
"May your life hereafter be filled with happiness and delights. "
"May the love you share today grow stronger as you grow old together."
"Wishing you a lifetime of love and happiness."
"May today be the beginning of a long, happy life together."
"Heartfelt congratulations on your marriage. May your bond last forever, and should it ever change, may it change to a firmer and better one."
"May the years ahead be filled with lasting joy."
"Wishing you joy, love and happiness on your wedding day and as you begin your new life together."
Funny wedding wishes
If you have a sense of humor and the couple whose wedding you're attending appreciates a good laugh, it's OK to include a funny message in the wedding card!
"I knew the love you had was something special. I love being right."
"This calls for congratulations! (And probably champagne!)"
"I predict cute babies."
"You two make this 'love and marriage' thing almost seem worth trying. Just kidding—you look so happy, and I'm so happy for you!"
"Marriage ain't for sissies! Gongrats on your first big step together."
"You got together like two beans in a pod! Joy forever!"
"As you wed today, here's my advice for the newlyweds – stay married! The best is yet to be!"
"I'll tell you the secret of a happy marriage. It remains… a secret to all! Wishing you all the best for the times ahead!"
Wedding wishes in rhyme
If you are on the poetic side of life, you may want to choose a verse (or two) that best resonates with what's inside your heart and share it with the happy couple. Here are our favorite wedding card poems!
Love one another
..and you will be happy.
It's as simple…
.. and as difficult as that
May this day you share
be filled with love and laughter
May all the days ahead
be happy ever after!
---
As you make this life commitment today
To travel together down life's pathway
Our wishes are with you for a wonderful life
As you "I do" to become husband and wife
---
A marriage is a promise
That two hearts gladly make
A promise to be tender
To help, to give and take
A marriage is a promise
To be kind and understanding
To be thoughtful and considerate
Fair and undemanding
A marriage is a promise
To share one life together
A love-filled promise meant to be
Kept lovingly forever
---
It's your Wedding Day
So perfect and fine,
With all your friends round you
To have a good time.
And we wish you much happiness
Starting your lives as one,
Always give love to each other
With lots of laughter and fun
---
Words are not enough today,
When your love will show the way,
To a wedding joy never ending,
The warmest wishes I am sending!
---
Today is beginning of the rest of your life,
Together forever as husband and wife.
Your dreams will come true with love and much more,
Happiness to share and the world to explore!
Wedding card closings
Just like the cherry on top of the cake a warm wedding card closing has the power to melt any newlywed couple's heart. Pick yours!
Warmest wishes,
Blessings,
God bless you both,
God bless you now and always,
With love,
Lots of love,
Much love to you both,
Congratulations and best wishes,
Warmest congratulations,
Best wishes!
Posted in
Wedding
,
Wedding Guest Book
Tags:
best wedding wishes
,
formal wedding wishes
,
funny wedding wishes
,
romatnic wedding wishes
,
short wedding wishes
,
timeless wedding wishes
,
verse wedding wishes
,
wedding card closings
,
wedding card writing tips
,
wedding wishes
,
wedding wishes examples
,
wedding wishes poem
,
wishes wedding card